APCPDCL JLM Result 2021 : APCPDCL Energy Assistant Merit List
APCPDCL ने 18 जुलाई 2021 को घोषित किया APCPDCL JLM परिणाम 2021 को 26 जुलाई 2021 को पूरा किया। APCPDCL Junior Lineman Grade II मेरिट लिस्ट 2021 Download करने के लिए, प्रतियोगी साइट www.apcpdcl.in पर जाएं। APCPDCL Energy Assistant Merit List 2021 पर, जिन उम्मीदवारों ने परीक्षा दी थी, उनमें से उच्च अंक प्राप्त करने वाले उम्मीदवार। चयनित सूची को सत्यापित करने से पहले, APCPDCL JLM परिणाम 2021 अंक जानने के लिए सभी को पता होना चाहिए। उम्मीदवार के अंकों के आधार पर, चयन पैनल 86 जेएलएम पदों के लिए उम्मीदवारों को चलाता है। जो उम्मीदवार लिखित परीक्षा में अंक हासिल करने में विफल रहे, उन्हें APCPDCL एनर्जी असिस्टेंट (JLM ग्रेड II) मेरिट लिस्ट 2021 में नहीं रखा गया है।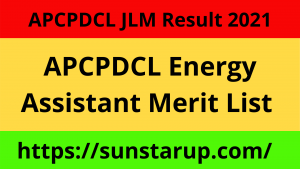 APCPDCL JLM RESULT 2021 SYNOPSIS
| | |
| --- | --- |
| Corporation Name | Andhra Pradesh Central Power Distribution Corporation Limited |
| Post Name | Energy Assistant (Junior Lineman Grade II) |
| Openings in Number | 86 |
| Category | Andhra Pradesh Results |
| Date Of Examination | 18th July 2021 (11 AM to 01 PM) |
| Result Date | 26th July 2021 |
| APCPDCL Portal | www.apcpdcl.in |
check Result —- Click Here
How to check result of APCPDCL Energy Assistant Merit List 2021?
Google the APCPDCL Site and land on the homepage that is www.apcpdcl.in
Drive to the Careers Page.
Open the Link "Dt 06-04-2021 Notification for the post of Energy Assistants (JLM Gr-II) in APCPDCL."
Then the Candidates are directed to the site "recruitment.apcpdcl.in"
Go to the APCPDCL Energy Assistant (Junior Lineman Grade II) Merit List 2021.
Download it and check the APCPDCL JLM Merit List 2021 with the Candidate Name and Registration Number to know their Shortlisted Status.