APS Jaipur Recruitment 2021 : On 58 Posts
APS Jaipur Recruitment 2021 : टीजीटी, पीआरटी, पीजीटी, एलडीसी, यूडीसी 58 पोस्ट लागू करें / अंतिम तिथि – 28.06.2021
आज की सरकारी नौकरी।सरकारी जॉब। APS Jaipur Recruitment 2021 has Announced a Notification to Filling up Vacancy of Interested Candidate See and Read Official Notification before Application Form Apply also Read this Post for Basic Information. All Information and Official Links Given Below.
Latest Sarkari Naukari 2021,।सरकारी  नौकरी । free Job Alert।Gov Jobs। sarkari job।,freejobalert।today sarkari naukari। sarkari job Exam Dat। Govenment naukari।gov bharti,।
APS Jaipur Recruitment 2021 Notification Number          = check official notification
APS Jaipur Recruitment 2021 Date of Issue                      = 13.06.2021
Candidate

Must Read first Official Notification Before Application Form Apply. Eligible Candidate Apply Application form Online from  till . Also Read this Post For Basic Information.
APS Jaipur Recruitment 2021 : overview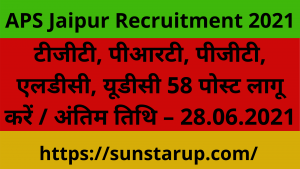 | | |
| --- | --- |
| Name of Organization | Army Public School |
| Name of Post | TGT, PGT, PRT, LDC, UDC |
| Total Number of Post | 58 |
| Mode of Application | Online |
| Job Category | Government |
| Job Location | Rajasthan |
| Official Website | https://apsjaipur.edu.in/ |
| Starting Date of Apply | 13.06.2021 |
| Last Date of Apply | 28.06.2021 |
APS Jaipur Recruitment 2021 : Army Public School (APS) Jaipur, Rajasthan has invited applications for Army Public School Jaipur recruitment 2021 of PGT, TGT & PRT, Administrative Officer, UDC, LDC, Receptionist, Computer Lab Technician Vacancy at 58 posts. Those candidates who are interested and eligible in APS Jaipur Recruitment 2021 The school or website can apply for Army Public School Jaipur Job Notification 2021 from 13.06.2021 to 28.06.2021 on the prescribed form available at apsjaipur.edu.in and send it to the school address by registered post can send. To know more details like, sarkari naukari, sarkari jobs, free job alert, , freejobalert, sarkari result,admit card, exam date, vacancy, sarkari jobs, www recruit gov in , recruit gov in,sarkarinaukari, notification,job recruitment,  application fee, qualification , age limit , salary etc  Please Visit Sunstarup .Com इन सब की जानकारी आप Official Website पर  जाकर check करे। Official Website  की सभी जानकारी नीचे दी गई।
Hello Friends आप सब का हमारी वेबसाइट  Sunstarup .Com पर बहुत -बहुत स्वागत है। आज हम आपके के लिए Latest सरकारी नौकरी की जानकारी लेकर आये। आप ऐसे ही हमारी वेबसाइट पर बने रहे। हम आपके के लिए  Latest Sarkari Naukari 2021,।सरकारी  नौकरी । free Job Alert।Gov Jobs। sarkari job।,freejobalert।today sarkari naukari। sarkari job Exam Dat। Govenment naukari।gov bharti, की सरकारी नौकरी।सरकारी जॉब। APS Jaipur Recruitment 2021
आर्मी पब्लिक स्कूल (एपीएस) जयपुर, राजस्थान ने पीजीटी, टीजीटी और पीआरटी, प्रशासनिक अधिकारी, यूडीसी, एलडीसी, रिसेप्शनिस्ट, कंप्यूटर लैब तकनीशियन रिक्ति के 58 पदों पर आर्मी पब्लिक स्कूल जयपुर भर्ती 2021 के लिए आवेदन आमंत्रित किए हैं। वे उम्मीदवार जो एपीएस जयपुर भर्ती 2021 में रुचि रखते हैं और स्कूल या वेबसाइट आर्मी पब्लिक स्कूल जयपुर जॉब नोटिफिकेशन 2021 के लिए 13 जून 2021 से 28 जून 2021 तक आवेदन कर सकते हैं और निर्धारित फॉर्म पर उपलब्ध हैं। स्कूल का पता पंजीकृत डाक से भेज सकते हैं।आवेदन शुल्क, योग्यता, आयु सीमा, आवेदन की प्रारभिक तिथि , आवेदन की अंतिम तिथि , वेतन  शैक्षिक योग्यता,  ऑनलाइन  आवेदन, आवेदन कैसे करे।  इन सब की जानकारी आप Official Website पर  जाकर check करे। Official Website  की सभी जानकारी नीचे दी गई। 
APS Jaipur Recruitment 2021 : Eligibility
Education/ Qualification:-
PG, B.Ed, Graduate, B.Ed, B.Tech, B.P.Ed, or D.P.Ed, Graduate, B.Ed, Graduate
Age Limit:-
Max – 57 years
Application Fee:-
Rs.100/-
­­[NOTE: Please Read the Official Notification Before Apply]
REET Recruitment 2021 : अधिसूचना 3200 पदों के लिए ऑनलाइन आवेदन करें ,अंतिम तिथि – 05.07.2021
MP Vidhwa Pension Sarkari yojana ;- 2021
APS Jaipur Recruitment 2021 : टीजीटी, पीआरटी, पीजीटी, एलडीसी, यूडीसी 58 पोस्ट लागू करें / अंतिम तिथि – 28.06.2021   आज…