Big question: how ready is the country to save children from
Big question: how ready is the country to save children from the third wave of Corona?
Due to Corona, there is a terrible situation in the country. While on one side there was a shout from the second wave, there is a hue and cry from the third wave. It is also a matter of concern that this third wave will engulf children in large numbers. , where the elderly were more affected in the first wave, while in the second wave, a large number of young people have also been infected. Rather this time the number of deaths has
also increased manifold. In such a situation, if it is about the health and safety of children, then the question arises.
Planning deficiencies needed to be
resolved in time Dr Ajay Gambhir said that experts have started analyzing the third wave from now on so that rescue can be done at the right time. Like the second wave, there will be no disastrous situation. Whatever the administrative shortcomings in planning, we have to remove them in time. Sero survey and testing will have to be increased and genotypes will have to be seen.
For this preparation, it is important that we take the help of data experts and share the data with a professional body. We were not able to do this yet. But if it is started from now, it will be known exactly whether the third wave will come or not.
The vaccine will be effective on 12-year-old children,
if they talk about children, then the children up to the age of 18 will come in it, but in terms of rescue, people should be included in children for 24 years. This is because they have not received the vaccine.
The vaccine will definitely work for children from 12 years to 18 years. If they get vaccinated with time, then the worry of the third wave will be reduced to a great extent.
What will be the effect? Depending on the variant of the virus,
when the Corona wave arrived in the USA, about 25 percent of the children were also affected there. The same situation can also remain for India. In this too, both children (18 to 24 years) moving towards adolescence and becoming young will be involved.
Others may be affected by mild infection. It will also depend on the variant of the virus. Many variants are mild, and many have a big impact.
This is the kind of preparation
Delhi or Central Government hospitals are ready for this. Mild type cases are kept in the Covid Care Center. If there is talk of children, then parents will also be able to live there. Apart from this, there are dedicated Covid Health Centers. There is a facility of oxygen etc., it is ready to be upgraded further. Apart from this, the third is Dedicated Kovid Hospital, which will be in case of severe infected cases. There will be no shortage of oxygen during the third wave in the country.
Children do not have separate medicines
One thing that is most important is that no medicine is different for children. Zinc, vitamin C, azithromycin, antibiotics will also be used for children. Apart from this, children may also have to be given steroid if needed. Because the lungs of children are small in size.
Will Remedissiver be used?
One of the big questions people are also asking is whether children need to be given remedies? Is it allowed? Dr Ajay says that this drug has not been validated for children in trials, but European countries have used it for children in some cases.
Now some countries are giving these drugs only to 12-year-old children. Some countries have also used it from 5-year-olds to 12-year-olds. According to those countries, it is also effective for children, although here we will repeat again that there is no problem in trials.
There is a shortage of pediatricians. There is
a big shortage that there are not many pediatricians in the country. Well physicians and diploma holders can also treat older children, but for children under the age of five or less, a pediatrician will be needed. Unfortunately, their number is small. It is important that those who are getting vaccinated now should get it replaced, do not become the carrier of infection. Think positively.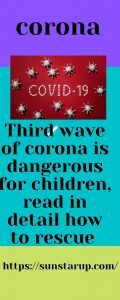 Trial on vaccine for
children will be conducted on vaccine for children along with AIIMS in Delhi and Patna at the Meditrina Medical Science Institute in Nagpur. On Tuesday, the application given by Bharat Biotech was discussed and the expert panel has recommended the second and third level trials.
It is being told that India Biotech Covaxine Trial can start on children. This clinical trial will be conducted on 525 children in different hospitals of the country.
The Supreme Court had asked questions
, in view of the highest danger to children in the third wave, the Supreme Court also raised questions. How children will be treated, their families will not be with them. How will they be handled, are there adequate arrangements for the children.
In view of this, work has been started in many states, from creating a separate hospital for children to special special care centers for children.
https://sunstarup.com/petrol-diesel-rate-of-may-13-jaipur-jodhpur-alwar-bikaner-udaipur-ajmer-did-not-increase-the-price-of-oil/
Big question: how ready is the country to save children from the third wave of Corona? Due to Corona, there is…