CA ICAI Foundation, final Results 2021 : Declared Check Link here
CA ICAI Foundation, final Results 2021
इंस्टीट्यूट ऑफ चार्टर्ड अकाउंटेंट्स ऑफ इंडिया (ICAI) ने आज चार्टर्ड अकाउंटेंट्स (CA) जुलाई 2021 का परीक्षा परिणाम जारी किया। उम्मीदवार आधिकारिक वेबसाइट icai.org पर नोटिफिकेशन देख सकते हैं। सीए फाउंडेशन और फाइनल (पुराने और नए पाठ्यक्रम) के परिणाम अब icaiexam.icai.org, caresults.icai.org और icai.nic.in पर उपलब्ध हैं।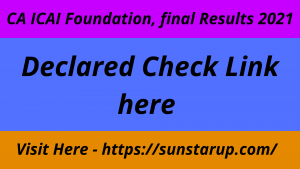 How to Check ICAI CA Final, Foundation Result 2021 ?
Go to any of the official websites of ICAI: icaiexam.icai.org / caresults.icai.org / icai.nic.in.
Click on the CA Result 2021 link, a new page will appear.
Select the exam that you have appeared for CA Final (Old) or CA Final (New).
Enter the registration number / PIN number.
Enter the 6-digit Roll Number.