DU Admission Cut Off 2021: Release Date, College Wise, Course Wise/ UG Admission List
Du Cutoff 2021 UG Admission
दिल्ली विश्वविद्यालय सितंबर 2021 के पहले सप्ताह में पहली प्रवेश कट-ऑफ अंक सूची घोषित करने जा रहा है। इस साल देश के सभी राज्यों द्वारा बोर्ड के परिणामों में देरी के कारण डीयू कट-ऑफ में होल्ड अप है। केंद्रीय विश्वविद्यालय के लिए पंजीकरण प्रक्रिया 2 अगस्त 2021 से शुरू होने जा रही है। छात्र दी गई अंतिम तिथि तक आवेदन कर सकते हैं। एक बार पंजीकरण प्रक्रिया पूरी हो जाने के बाद विभाग डीयू प्रवेश के लिए कट-ऑफ जारी करना शुरू कर देगा। कक्षा 12 में हर साल 2 लाख से अधिक छात्र 90% से अधिक अंकों के साथ उत्तीर्ण होते हैं। जिनमें से 70,000 छात्र 95% से अधिक अंकों के साथ उत्तीर्ण होते हैं। जो छात्र डीयू में प्रवेश लेना चाहते हैं, वे पहले पंजीकरण फॉर्म के लिए सफलतापूर्वक आवेदन करें, फिर विश्वविद्यालय प्रवेश कट-ऑफ सूची की प्रतीक्षा करें।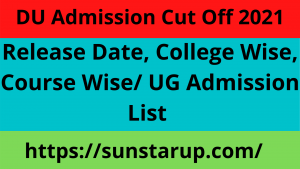 | | |
| --- | --- |
| Organization | Delhi University (DU) |
| Academic Year | 2021-22 |
| Article Subject | First Cut off List |
| Cutoff list | First, Second, Third, Special |
| Cut off List Date | 7th-10th Sept. 2021 (Expected) |
| Article Category | Cut Off Marks |
| Official Website | admission.du.ac.in |
DU Cut off list 2020 College wise
Dr Bhim Rao Ambedkar College
93.5%
Gargi College
98%
Ramanujan College
96%
Shyama Prasad Mukherji College for women
95%
Sri Aurobindo Collge (Evening)
92%
DU Last year Cut off Marks For SRCC (2020) Category Wise
| | | |
| --- | --- | --- |
| Category | B. A. (Hons.) Economics | B. Com. (Hons.) |
| Unreserved (UR) | 99.00% | 99.50% |
| Scheduled Caste (SC) | 97.00% | 96.25% |
| Scheduled Tribes (ST) | 95.75% | 94.50% |
How to Check DU Cutoff List 2021 PDF Online?
Visit the Delhi University DU Admission Official Website: admission.du.ac.in
Go to UG/PG Merit list 2021 session.
Click on the Cut off list 2021.
Download the DU UG PDF 2021 List.
Now find your name in the list with the registration number.
If your name consist on the list then pay the fee and take admission.
If not then wait for another list.