DU First Cut off 2021: Delhi University Science, Arts, Commerce 1st Cut Off List
DU First Cut off 2021 
दिल्ली विश्वविद्यालय ने सत्र 2021-22 के लिए यूजी प्रवेश के लिए आवेदन प्रक्रिया शुरू कर दी है। आवेदन प्रक्रिया 2 अगस्त 2021 को शुरू हुई थी। जो उम्मीदवार दिल्ली विश्वविद्यालय के कॉलेजों में प्रवेश के इच्छुक हैं, वे अंतिम तिथि 31 अगस्त 2021 तक आवेदन कर सकते हैं। आवेदन प्रक्रिया पूरी होने के बाद डीयू पहली कट-ऑफ सूची 2021 जारी करेगा। विश्वविद्यालय जारी करेगा। कला, वाणिज्य और विज्ञान सभी धाराओं के लिए DU पहली कट-ऑफ सूची 2021। उम्मीद है कि 2021 में डीयू की पहली कट-ऑफ लिस्ट इस साल और ऊपर जाएगी। बीए, बीएससी, बीकॉम प्रोग्राम कॉलेज वार के लिए डीयू की पहली प्रवेश कट ऑफ सूची 2021 के बारे में नवीनतम अपडेट जानने के लिए, इस पृष्ठ पर नीचे दी गई जानकारी पढ़ें।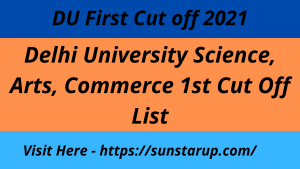 DU First Cut off 2021  Overview 
| | |
| --- | --- |
| Organization | University of Delhi |
| List Name | First Cut off List |
| Streams | Arts, Commerce, and Science |
| Cutt-off list release date | 7th to 10 Sep. 2021 (Expected) |
| Registration Commencement Date | 2nd August 2021 |
| Last Date of Registration | 31st August 2021 |
| Article Category | First Cut-off list |
| Official Website | du.ac.in |
How to Download DU's First Admission Cut-off list 2021 PDF?
Visit the official website http://du.ac.in/
Go to the DU UG Admission first cut-off list 2021.
With one click first merit list, 2021 will appear.
Find your name and roll number in the list.
Now, download the PDF or take the printout.