OSMOSE TECHNOLOGY PRIVATE LIMITED
OSMOSE TECHNOLOGY PRIVATE LIMITED
OSMOSE TECHNOLOGY PRIVATE LIMITED :There are three types of company in India
1.Government Company
2.Public Limited Company
3.Private Limited Company
OSMOSE TECHNOLOGY PRIVATE LIMITED is a private limited.
What is Private company
According to section 2(68) of Companies Act 2013 defines private companies.  The private companies are those companies whose articles of association restrict the transferability of shares from one person to other person like a public company and prevent the public at large from subscribing to them. The section further says  private company can have a maximum 200 member except one person company. Minimum two member can form a private company.
OSMOSE TECHNOLOGY
PRIVATE LIMITED

Type of company : Private

Corporate Identification Number ( CIN) is

U72900PN2019PTC188640

 Roc  with registered ROC- PUne

Stock Exchange: Not Registered

Email Id of Company: osmosetech21@gmail.com

Date of Registration: 24/12/2019

Registered office Address: Office no. SD/E S.No 17/1B P. NO. 14, Devgiri Area Kothrud Pune, Pune 411038 Maharastra

Authorised Capital 5,00,000
Paid up Capital Rs. 100000
Present Director of company
Vikram Madhukar Paital
Vishal Sarjerao Mahind
.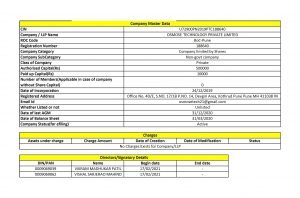 Driving Licence Online Apply Form
MCA portal login
https://mca.gov.in/content/mca/global/en/home.html
OSMOSE TECHNOLOGY PRIVATE LIMITED OSMOSE TECHNOLOGY PRIVATE LIMITED :There are three types of company in India 1.Government Company 2.Public Limited…