REET 2021 : Is the Rajasthan Reit Exam postponed again,
REET 2021 : Is the Rajasthan Reit Exam postponed again, see RBSE's tweet !
REET 2021: The Rajasthan Teacher Eligibility (REET) examination to be conducted by the Rajasthan Board of Secondary Education (RBSE) seems to be postponed. Today, RBSE has tweeted a tweet, which shows the cutting of media coverage. This tweet from RBSE also contains news about postponement of REIT examination, but has not officially announced the postponement of the examination yet.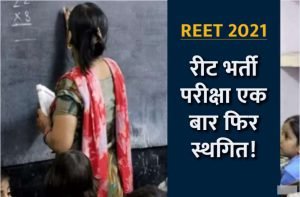 Actually, in this regard, Rajasthan Education Minister Govind Singh
Dotasara had recently told the media that it is not possible to conduct the exam on June 20. Let us tell you that in view of the rising infection of Kovid-19 in Rajasthan and the situation of lockdown, the government is likely to postpone the examination again.
The Rajasthan government has announced a strict lockdown till 24 May. In this case, the work will stop. Earlier, Rajasthan Staff Selection Board has postponed the RSMSSB Junior Engineer 2020 exam due to corona virus epidemic. The examination was scheduled to be held on June 12, 2021.
Let us know that this exam is proposed on June 20. Earlier this was exam scheduled to be held on 25 April.
REET 2021 : Is the Rajasthan Reit Exam postponed again, see RBSE's tweet ! REET 2021: The Rajasthan Teacher Eligibility (REET)…