SBI Clerk Prelims Result 2021: (Expected Today) Link To be Out  
SBI Clerk Prelims Result 2021: (Expected Today) Link To be Out
Clerk Prelims Result 2020 Link 
State Bank of India (SBI) के अधिकारी जुलाई 2021 {अपेक्षित} में Clerk (Junior Associates) पदों के लिए प्रारंभिक परीक्षा परिणाम जारी करने की संभावना है। प्रारंभिक परीक्षा में उपस्थित होने वाले उम्मीदवार official website  www.sbi.co.in पर Junior Associates परिणाम की जांच करने में सक्षम होना चाहिए। SBI क्लर्क (जूनियर एसोसिएट्स) परीक्षा 5454 Junior Associates की नियुक्ति के लिए है। prelims result के बाद, मुख्य परीक्षा 31 जुलाई 2021 को टेंटेटिव रूप से आयोजित की जाएगी।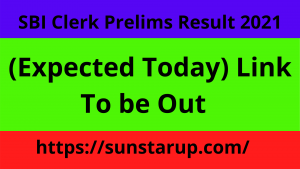 1024w, https://sunstarup.com/wp-content/uploads/2021/07/SBI-Clerk-Prelims-Result-2021-768x432.png 768w, https://sunstarup.com/wp-content/uploads/2021/07/SBI-Clerk-Prelims-Result-2021-1600x900.png 1600w, https://sunstarup.com/wp-content/uploads/2021/07/SBI-Clerk-Prelims-Result-2021-1536x864.png 1536w, https://sunstarup.com/wp-content/uploads/2021/07/SBI-Clerk-Prelims-Result-2021.png 1920w" sizes="(max-width: 373px) 100vw, 373px" />
SBI Clerk Prelims Result 2021
| | |
| --- | --- |
| Organization | State Bank of India (SBI) |
| Job Category | Govt Jobs |
| Post Name | Clerk (Junior Associates/JA) |
| Total Vacancy | 5454+ approx. |
| Examination Date | 10th July to 13th July 2021 |
| Exam Centers | All across India |
| Exam Mode | CBT |
| SBI Clerk Prelims Result 2021 Date | July 2021, Expected Soon |
| Direct Link | To Be Provided Below |
| Main Exam Date | 31st July 2021 |
| Result Mode | Online |
| Status of Result | To be Released |
| Article Category | Sarkari Result |
| Official Website | www.sbi.co.in |
SBI Clerk Prelims Cut off Marks & Merit List 2021 
हम मुख्य रूप से SBI क्लर्क प्रारंभिक परीक्षा मेरिट सूची 2021 के बारे में महत्वपूर्ण विवरण देते हैं। Merit list में उन छात्रों के नाम हैं, जिन्होंने अन्य उम्मीदवारों के चयन के अगले चरण के दौरान सबसे अधिक लाभ प्राप्त किया है। सभी उम्मीदवार आधिकारिक पोर्टल पर मेरिट सूची की जांच कर सकते हैं। मेरिट सूची उम्मीदवारों की पंजीकरण संख्या, नाम के अनुसार होगी।
What after SBI Clerk Prelims Results 2021? 
SBI Clerk Prelims Exam पास करने वाले उम्मीदवारों से SBI Clerk Mains Exam 2021 देने का अनुरोध किया जाएगा। एसबीआई मेन्स परीक्षा प्रीलिम्स परिणाम की घोषणा के तुरंत बाद आयोजित की जाएगी। इन सबके बीच परीक्षा में देरी हो सकती है क्योंकि देश में Coronavirus (COVID-19) फैल रहा है।
Mains Exam में 200 अंकों के कुल 190 प्रश्न होंगे। पेपर पूरा करने के लिए उम्मीदवारों को 2 घंटे 40 मिनट का समय दिया जाएगा। official notification के अनुसार "मुख्य परीक्षा उत्तीर्ण करने वाले उम्मीदवारों से अनुरोध किया जाएगा कि वे संबंधित बैंक की आधिकारिक साइट से अपना call letter download करें।
How to check SBI Clerk Prelims Result 2021
The first step requires you to visit the official website sbi.co.in.
Go to "SBI Careers"
Under the "Latest Announcements" section, you will get the Result link.
Candidates have to find the SBI Clerk Prelims Result 2021 for clerk (Junior Associates) and (Customer Support and Sales) Posts.
Click on the link.
Enter your respective registration number and date of birth.
Now you can check your SBI Clerk Result 2021.
Check the Exam Result and take a hard copy of the Result.
UBTER Staff Nurse Admit Card 2021: (Exam Postponed) www.ubter.in 
WB Madhyamik Result 2021 : Release Date 10th Class Result 
Berojgari Bhatta apply UP उत्तर प्रदेश बेरोजगारी भत्ता
Delhi DSSSB TGT Teacher Recruitment 2021 : 5807 पोस्ट 2021 के लिए ऑनलाइन आवेदन करें / अंतिम तिथि – 03.07.2021
SBI Clerk Prelims Result 2021: (Expected Today) Link To be Out Clerk Prelims Result 2020 Link  State Bank of India (SBI)…