TS Polycet Seat Allotment Results 2021: 1st Phase Allotment Order Download Time at tspolycet.nic.in
तकनीकी शिक्षा विभाग तेलंगाना राज्य ने 14 अगस्त, 2021 को प्रथम चरण अनंतिम सीट आवंटन परिणाम जारी किया है। TS POLYCET 2021 सीट आवंटन आदेश / परिणाम आधिकारिक वेब पोर्टल https://tspolycet.nic.in/default.aspx पर उपलब्ध होंगे। वे उम्मीदवार जिन्होंने टीएस पॉलीसेट 2021 प्रथम चरण परामर्श फॉर्म और स्लॉट बुकिंग के लिए आवेदन किया है, वे आधिकारिक वेबसाइट के माध्यम से अपने सीट आवंटन आदेश की जांच कर सकते हैं या अपने लॉगिन आईडी विवरण – रोल नंबर, जन्म तिथि, की सहायता से सीधे लिंक का उल्लेख कर सकते हैं। और पासवर्ड वार। टीएस पॉलीकेट सीट आवंटन 2021 की जांच के बाद उम्मीदवारों को आधिकारिक वेबसाइट पर शिक्षण शुल्क और स्व-रिपोर्टिंग का भुगतान करना होगा।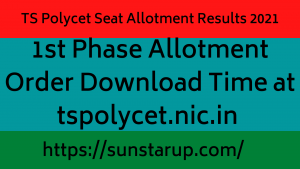 Telangana State POLYCET 2021-22 Detait
| | |
| --- | --- |
| Organization Name | State Board of Technical Education & Training (SBTET) Telangana |
| Name of exam | Telangana Polytechnic Common Entrance Test 2021 |
| Known As | TS POLYCET 2021 |
| Admission in | Engineering & Non-Engineering Diploma Courses |
| Exam Date | 17 July 2021 |
| Polycet 2021-22 Results | 28 July 2021 |
| Academic Year | 2021-22 |
| 1st Phase Allotment Date | 14 August 2021 |
| Status | Available Here |
| Article Category | Allotment Result |
| Official website | https //tspolycet.nic.in 2021polycetts.nic.in |
How to Check TS Polycet Seat Allotment Results 2021 Online
Visit the official website of TS Polycet – https://tspolycet.nic.in/default.aspx
Find the Seat Allotment Result Link and Click On it
open the login page.
then Enter Login Details Such as Hall Ticket Number and Date of Birth and Password.
Now Click on the submit button and open it and check your College Allotment Details.
then take a printout of the seat allotment order.