UBTER Staff Nurse Admit Card 2021: (Exam Postponed) www.ubter.in 
UBTER Staff Nurse Admit Card 2021: (Exam Postponed) www.ubter.in
UBTER Staff Nurse Admit Card 2021 Exam Postponed Notice 
Uttarakhand Board of Technical Education (UBTER) ने स्टाफ नर्स परीक्षा 2021 के लिए admit card जारी कर दिया है। जिन उम्मीदवारों ने स्टाफ नर्स 2021 रिक्ति के लिए सफलतापूर्वक आवेदन किया है, वे official website www.ubter.in या www.ubtersn.in से admit card download कर सकते हैं। नवीनतम अपडेट के लिए, UBTER ने स्टाफ नर्स 2021 परीक्षा को स्थगित कर दिया है। UBTER का download admit card/hall ticket करने के लिए रजिस्ट्रेशन नंबर/रोल नंबर और जन्मतिथि जरूरी है। हॉल टिकट के सीधे लिंक के लिए
कृपया नीचे देखें।
UBTER Staff Nurse Exam Date 2021  
latest notice के अनुसार, स्टाफ नर्स परीक्षा जो 15 जून 2021 (10:00 AM to 01:00 PM) को होने वाली है, को कुछ प्रशासनिक कारणों से स्थगित कर दिया गया है। उम्मीदवारों से अनुरोध है कि वे दी गई परीक्षा तिथियों का ध्यान रखें, हालांकि, नवीनतम समाचारों और updates के लिए दैनिक आधार पर UBTER वेबसाइट देखें। क्योंकि यदि परीक्षा केंद्र, तिथि, समय में कोई परिवर्तन होता है; यह सबसे पहले official website पर दिखाई देगा। इसके अलावा, हम और अधिक UBTER परीक्षाओं के संबंध में अपनी साइट पर नई जानकारी जोड़ेंगे।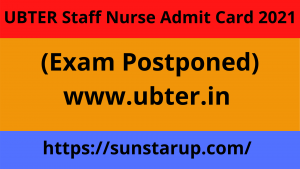 Uttarakhand Board of Technical Education Staff Nurse Exam 2021 Details
| | |
| --- | --- |
| Organization | Uttarakhand Board of Technical Education (UBTER) |
| Category | State Govt Jobs |
| Post Name | Group C, Staff Nurse |
| Total Vacancy | 2621 Posts |
| Selection Process | Written Examination |
| Exam Date | check official website |
| Admit Card Date | check official website |
| Details Required for Admit Card | Registration Number/ Roll Number & DOB |
| Article Category | Admit Card |
| Official Website | www.ubter.in |
Details available on UBTER Hall Ticket 2021
In general, the following are the details available in a UBTER Admission Card/Hall Ticket:-
Name of Candidate
Father's Name
Category
Gender
Date of Birth
Candidate's Address
Photograph & Signature
Center Name
Center Code
Roll Number
Application Number
The subject of the Exam
Date & Time for the examination
Important Instructions
Authorized Signatory (Secretary/Director)
How to download UBTER Admit Card 2021 For Staff Nurse Vacancy?
Visit Uttarakhand Board of Technical Education Website www.ubter.in
Go to the Staff Nurse Recruitment Section.
Click on "Group C Staff Nurse Portal."
Click on the link that says "Download Admit Card"
Then, Enter the Registration Number/ Roll Number & Select Date of Birth (DOB).
Submit details and admit card for the respective exam will appear.
Download the PDF of the admit card as prescribed.
UBTER Staff Nurse Syllabus 2021: Exam Pattern Topic Wise 
face Aadhaar Download Aadhaar Card using face Authentication 2021
Berojgari Bhatta apply UP उत्तर प्रदेश बेरोजगारी भत्ता
SSC GD Constable Recruitment 2021: ऑनलाइन फॉर्म 2021 / अंतिम तिथि – 31.08.2021
UBTER Staff Nurse Admit Card 2021: (Exam Postponed) www.ubter.in UBTER Staff Nurse Admit Card 2021 Exam Postponed Notice  Uttarakhand Board of…