Vizag Steel Plant Trade Apprentice Result 2021: Out RINL VSP Trade Apprentice Cut Off, Merit List
Vizag Steel Plant Trade Apprentice Result 2021
यदि आपने 8 अगस्त 2021 को RINL VSP ट्रेड अपरेंटिस फिटर, टर्नर, मशीनिस्ट, वेल्डर, मैकेनिक मशीन टूल मेंटेनेंस (MMTM), इलेक्ट्रीशियन, कारपेंटर, मैकेनिक रेफ्रिजरेशन एंड एयर कंडीशनिंग, मैकेनिक डीजल, कंप्यूटर ऑपरेटर और प्रोग्रामिंग असिस्टेंट ट्रेड्स परीक्षा में भाग लिया है। , तो आपको इस पेज से RINL विजाग स्टील प्लांट ट्रेड अपरेंटिस रिजल्ट 2021 की जांच करनी चाहिए। राष्ट्रीय इस्पात निगम लिमिटेड (आरआईएनएल) विजाग स्टील प्लांट के अधिकारियों ने आरआईएनएल वीएसपी ट्रेड अपरेंटिस परिणाम 2021 घोषित किया। हमने यहां सटीक लिंक प्रदान किया है।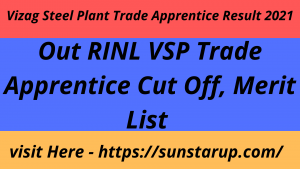 Vizag Steel Plant Trade Apprentice Result 2021 Overview
| | |
| --- | --- |
| Organization Name | Rashtriya Ispat Nigam Limited (RINL) Vizag Steel Plant |
| Post Name | Various |
| Total Vacancies | 319 |
| Exam Date | 08.08.2021 |
| Result Status | Available now |
| Category | Result |
| Selection Process | Computer Based Test |
| Location | Andhra Pradesh |
| Official website | http://vizagsteel.com/ |
How To Vizag Steel Plant Trade Apprentice Result 2021?
Visit the official site vizagsteel.com.
You will land on the main page of the Rashtriya Ispat Nigam Limited (RINL) Vizag Steel Plant.
On the main page itself, the "What's New" section will be available.
Check there for the RINL VSP Trade Apprentice Result 2021 link.
Tapping on it will let you view the result.
Check the score and download it.